Human Interest Editor's Score: 95/100
| | |
| --- | --- |
| Transparent pricing | 100/100 |
| Low employee investment fees | 95/100 |
| Mobile and online access | 100/100 |
| No fees for sign-up and administration | 100/100 |
| Variety of plans | 90/100 |
Why Human Interest Is Best for Affordability
Human Interest is the best employee retirement provider for affordability because it's both cost-effective and considerably more transparent about pricing than most other providers in the space. The $4-per-employee charge is relatively low, especially for plans that offer easy payroll integration, plus full plan administration and recordkeeping.
Pros
Monthly rates start at just $120 per month, plus $4 per employee per month.
Tiered pricing lets businesses choose the level of support that's right for them.
Human Interest includes free built-in investment advice and automatic portfolio rebalancing for employees.
Cons
Some users report issues in connecting with the customer support team.
The customer support team is unable to make account changes.
There are no IRA options.
Plans
| Feature | Essentials | Complete | Concierge |
| --- | --- | --- | --- |
| Payroll integration | Yes | Yes | Yes |
| Automated administration and recordkeeping | Yes | Yes | Yes |
| Plan administration | No | Yes | Yes |
| Human Interest acts as 3(16) fiduciary | No | Yes | Yes |
| Tax support | No | Yes | Yes |
| Dedicated account management | No | No | Yes |
Essentials
Essentials is Human Interest's basic plan that includes automated administration and recordkeeping, as well as integration with more than 100 payroll providers. Employers can customize plans to include safe harbor plans, profit-sharing plans, Roth and traditional 401(k) plans and 403(b) plans. The Essentials plan also enables employers to design vesting schedules, automatic enrollment, plan eligibility, employer matching contributions and more.
Complete
In addition to the integrations and automations available through the Essentials plan, Complete plan customers get more advanced services from Human Interest's team. With this option, Human Interest acts as plan administrator and 3(16) fiduciary. The Complete plan also includes tax support, in that Human Interest signs and files IRS documents.
Concierge
Concierge is Human Interest's most comprehensive employee retirement plan. Employers get access to all of the features included in the Complete plan, plus dedicated account management, which further streamlines administration and makes it easier to provide employee retirement benefits.
Additional Features
Administrative compliance. Business owners can choose a plan that puts IRS and DOL reporting and compliance in the hands of a Human Interest account manager.
Payroll integration. Human Interest's platform syncs with more than 100 of the most popular payroll companies, making it easier to track and process employee contributions.
Reporting. Employers can access Human Interest's administrator dashboard to view reports, evaluate employee adoption and complete other functions.
IRS documents. Business owners can simplify tax preparation by choosing Human Interest's Complete or Concierge plan. With either of these options, Human Interest reduces paperwork and minimizes the risk of missing deadlines by preparing, signing and filing IRS forms.
Employee resources. Human Interest provides employees with built-in investment advice and automatic portfolio rebalancing. Employees can also access support for rollovers, loans and hardship withdrawals via phone and email. There is also an online learning center for both employees and employers.
Automated portfolio management. Employee funds can be invested in a diversified and low-cost portfolio and rebalanced every quarter. This makes retirement investing easier for employees who aren't comfortable managing their own funds.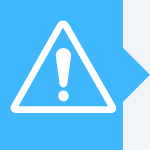 Did you know? Employee retirement benefits closely integrate with top payroll software, so employers and employees can easily track pay and benefits together.
Account Types
Human Interest offers several types of retirement plans. Each plan has its own rules and regulations, as determined by the IRS.
Traditional 401(k): Conventional 401(k) plans allow for pretax deductions, which employers can choose whether to match.
Roth 401(k): Roth accounts allow for after-tax contributions and tax-free growth and distributions.
Safe harbor 401(k): Safe harbor 401(k) plans include certain matching provisions that allow business owners to maximize their own contributions each year.
403(b): These plans are most commonly used by government agencies and nonprofits, but they may be useful for small churches and philanthropic organizations.
Profit-sharing: One portion of employees' 401(k) contributions each year can come from company profit-sharing, which is completely at the business owner's discretion.
Investment Options
Human Interest keeps investment options simple for employees, focusing on a short lineup of mostly stock and bond mutual funds. Through Human Interest, employees also get access to some funds with international exposure and a couple of funds focused on real estate. However, Human Interest's primary goal is to offer a selection of cost-effective funds that are diversified and easy to choose from. The company offers the following types of investments:
Stock mutual funds
Bond mutual funds
International mutual funds
Real estate funds
An FDIC-insured cash deposit account
While Human Interest doesn't offer a ton of investment options, it focuses on minimizing employee expenses and risk and limiting them to choices that offer diversification. This makes it easy for employees to choose investment options that don't involve too much risk to their nest eggs.
Pricing
Essentials: $120 per month base fee, plus $4 per eligible employee per month
Complete: $150 per month base fee, plus $6 per eligible employee per month
Concierge: $150 per month base fee, plus $8 per eligible employee per month
With all of Human Interest's retirement plans, a one-time $499 setup fee may apply. In addition to the plan costs incurred by employers, enrolled employees pay 0.5% per year, plus 0.07% average fund fees.
Ease of Use
Signing up for Human Interest is pretty simple. Start by navigating to the Get Started button on the homepage and identifying the number of employees your business has. Then, select which payroll provider you use, and indicate whether your business has an existing retirement plan and, if so, what kind. Finally, provide contact information so a Human Interest representative can contact you. You can also call them directly or submit your contact information online to schedule a call with a Human Interest representative.
Once you set up a retirement plan with Human Interest, administration and payroll integration are largely integrated. Although there are a number of helpful resources in the online support center, Concierge users can also direct questions to their dedicated account manager. Plan participation is also easy for employees, as Human Interest emails instructions for creating an account, setting a contribution rate, choosing investments and opting out.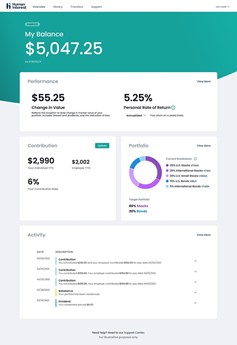 Customer Service
If you're considering Human Interest for your business's employee retirement needs, it's easy to contact the sales team by phone or online form. Human Interest employers and employees can contact support via telephone Monday through Friday from 9 a.m. to 8 p.m. ET, or you can fill out a contact form through the Human Interest Support Center. Plan administrators can contact customer support directly through their account representatives.
Drawbacks
The biggest drawback we identified when reviewing Human Interest is its one-time installation fee of $499. These fees are common throughout the employee retirement benefits industry, but Human Interest charges a high fee. The company sometimes waives this fee when running promotions, however, and may be open to negotiation.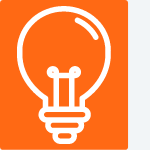 Tip: Considering alternatives to Human Interest? Read our review of ShareBuilder 401k or our American 401k review.
What Is an Employee Retirement Benefits Provider?
Retirement benefits providers help business owners set up and administer retirement plans for themselves or their employees. Many providers offer different services, including plan design or administration, proprietary investment options, investment management or payroll services.
Methodology
To choose our best pick for affordability, we examined employee retirement benefits providers that kept costs low and didn't charge excessive fees. When reviewing companies, we considered the overall costs of setup, maintenance fees, and per employee per month for the plan. Next, we considered the breadth of features and services these affordable plan providers offer. We chose Human Interest because it offers a wide array of investment options, a mobile and/or online app, and top-notch customer service.
FAQs
Is Human Interest a good company?
Human Interest is a very sound company specializing in streamlined online offerings. The company, which was valued at $1 billion in its most recent round of fundraising, offers a core lineup of employer-sponsored retirement plans that are easy to set up and administer.
Is Human Interest a good 401(k)?
Human Interest is an excellent 401(k) provider. While the company isn't the absolute cheapest option available, it's extremely transparent and very reasonably priced. What's more, the company handles all plan administration and recordkeeping, integrates easily with company payroll and can even act as a plan fiduciary, all for a small, transparent fee.
Who owns Human Interest?
Human Interest is a startup that was founded by Paul Sawaya and Roger Lee. It also has outside investors, including SoftBank, NewView Capital, Glynn Capital, U.S. Venture Partners, Wing Venture Capital, Uncork Capital, Slow Capital, Susa Ventures and others.
Bottom Line
We recommend Human Interest for …
Tech-savvy companies with a half dozen to several dozen full-time employees.
Small employers that want easy-to-manage safe harbor plans.
Small churches and foundations.
We don't recommend Human Interest for …
Large employers with more than 50 employees.
Solopreneurs in need of a self-employed 401(k).
Business owners who employ mostly consultants and independent contractors.