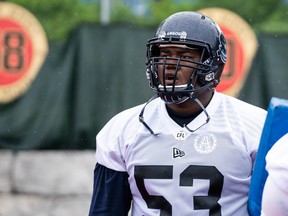 Article content
There was a chance that the Argonauts could have returned home from Edmonton late Saturday night assured of first place in the East and a bye into the division final.
Article content
However, the Montreal Alouettes' rally on Friday night to defeat the host Ottawa Redblacks means that even if the Boatmen prevail over the last-place Elks at Commonwealth Stadium, they'll need a win over the Als in their home-and-home set to wrap up the regular schedule.
Article content
The 9-6 Argos have a two-point lead on the now 8-8 Als, with the game in hand on Saturday.
Article content
Regardless what happens against the Elks, the Argos are expected to have Peter Nicastro on their chartered flight home following Saturday's game.
The homebrew guard, however, may wind up not playing even one game this season because of a knee injury suffered late in 2021.
And because a decision was made to undergo surgery in his hometown of Calgary, there was a delay in performing the procedure and he has been slowly working his way back ever since.
Article content
As a rookie in 2021, Nicastro began the year at left guard. When veteran Philip Blake, the team's starting centre, was injured in Toronto's season opener in Calgary, it was Nicastro who moved inside. He turned into an elite lineman.
By no means will the Argos compromise Nicastro's health by rushing him back, but the possibility of him returning to the offensive line frees up a lot of options.
At one point this season, Toronto's O-line had three tackles, all Americans, out with injury.
Isiah Cage, whose past two seasons have been riddled with injuries, is back practising with the hope of soon playing.
Dejon Allen has battled injuries, but he'll miss the Elks game as he welcomes the birth of his child.
So, Toronto will go with an all-Canadian offensive line, a look it has featured previously this season.
Article content
The veterans on the unit are Blake and Dariusz Bladek, stalwarts who have appeared in each game. Both joined the Argos in 2021.
Justin Lawrence, whom the Argos signed in free agency this off-season from Calgary, has filled in at centre. Lawrence has battled through injuries, but he has never missed a game in 2022.
First-round draft pick Gregor Mackellar was asked to shoulder a bigger load, emerging as a starter at left guard.
Against the Elks, former first overall draft pick Shane Richards will get the start, a versatile lineman who has played both tackle slots and has also been asked to move inside.
The two backups are Theren Churchill and Ryan Hunter.
Churchill, a native of Stettler, Alta., will be on the roster for the ninth game this season. He missed camp and was away from the team to be with his partner as the couple was about to add a new member to the family.
Article content
Hunter recently joined the Argos following his time in the NFL where the native of North Bay won a Super Bowl ring with the Kansas City Chiefs.
No one is about to get ahead of themselves when the immediate focus is on the Elks, but the Argos will have, at least they should have, an abundance of linemen at the all-important position.
"Guys have bought in,'' said Blake, "and guys have stepped up. Some of the older guys such as myself and Bladek are helping the younger guys as much as we can. Everyone needs to be on the same page because as a group we don't want to let the team down."
At the heart of solid line play is communication.
"I told the guys that even if they (opponents) know the play we're running, they still have to stop it,'' added Blake. "Communication is the most important thing. You need all five guys working in unison."
Article content
Mackellar has been a revelation, much like Nicastro who turned heads in his rookie season. A native of Nova Scotia, he went through the expected growing pains. In his first rep as a pro, he was asked to block Cleyon Laing when the Argos opened the pre-season in Ottawa.
It didn't go so well, but Mackellar has evolved into a solid piece on the O-line.
Hunter made an immediate impression. During last week's win over visiting B.C., Hunter showed that nastiness all linemen must possess.
"His footwork is so good,'' said Blake of Hunter. "He just adds another dimension."
Blake has been around the football block. He turns 37 on Nov. 27, one week following the staging of the Grey Cup, which he has never won.
"We know where we got to last year,'' said Blake, whose Argos fell one game short in '21 of appearing in the Grey Cup. "We saw what our downfall was . We know this year what it takes to get to the next level."
fzicarelli@postmedia.com