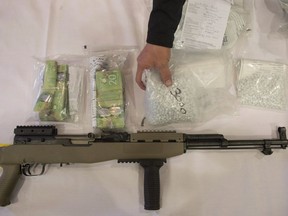 Article content
WASHINGTON — A new front in America's war on drugs is opening up — and Canada has a seat at the strategy table.
Article content
Senior Biden administration officials, including Attorney General Merrick Garland and Homeland Security Secretary Alejandro Mayorkas, will be in Ottawa in the coming weeks to talk about an ongoing fentanyl offensive.
Specific timing is still unconfirmed, but the 2023 Cross-Border Crime Forum comes after strategy meetings at the White House last week between national security officials and diplomats from the U.S., Canada and Mexico.
The principal goal, among other law-enforcement issues: confronting the explosive growth of synthetic opioids, especially fentanyl — a scourge the White House describes as "the foremost drug threat in North America."
It's a "shared objective" between both Canada and the U.S., said Public Safety Minister Marco Mendicino, who will take part in the Ottawa meetings alongside Justice Minister David Lametti.
Article content
"It's about creating a strong relationship between our two countries in what has become a true crisis," Mendicino said.
And while they will always be close partners when it comes to shared law enforcement and national security goals, Mendicino said Canada will also advocate for "evidence-based approaches" to the public-health component.
"Canada also has an important role to play in supporting a public health approach when it comes to reducing the trauma and the social harms that have been caused by opioids, including the trafficking of fentanyl," he said.
During the Ottawa meetings, "we are going to be drilling down on these issues of collaboration at the law enforcement operational level, as well as taking a look at evidence-based approaches that will help us reduce and prevent further loss."
Article content
On Thursday, U.S. homeland security adviser Elizabeth Sherwood-Randall hosted a meeting at the White House with Canadian counterpart Jody Thomas and Rosa Icela Rodriguez, Mexico's secretary of security.
They laid out a four-pronged team effort: current and emerging synthetic drugs, drug demand and public health, the "modes and methods" of traffickers, and targeting their financial operations.
The aim is to disrupt the transfer, facilitation and supply of illicit fentanyl, its precursor chemicals and drug-making equipment like pill presses before they can even enter the hemisphere, the White House said.
Canada's delegation also included U.S. ambassador Kirsten Hillman and Ramzi Nashef, Thomas's chief of staff.
Article content
The challenges for the two countries are decidedly different, if the U.S. approach on the law enforcement side is any indication.
A joint Customs and Border Protection and U.S. Border Patrol crackdown that began last month seized nearly 5,000 pounds of fentanyl — more than 2,200 kilograms — in just the first four weeks, the agencies say.
Most of it entered the country from Mexico, illustrating the degree to which the opioid crisis is politically intertwined with the ever-present migration challenge the U.S. has long faced at its southern border.
"We are matching the unprecedented challenge of fentanyl with unprecedented solutions," Mayorkas said, "and leveraging the full weight of this department to do so."
Article content
Police and border officials in Canada have also been intercepting large shipments of precursor chemicals — the building blocks of fentanyl and other opioids that are themselves designated controlled substances.
Last month, RCMP investigators in B.C. made two arrests and seized precursors worth an estimated 262 million fentanyl doses. In 2021, the Canada Border Services Agency seized a single 1,500-kg shipment worth two billion doses.
"I think it's important that we look at the flow of opioids, whether it's from abroad into the U.S. and then to Canada, or vice versa from abroad into Canada and the U.S.," Mendicino said.
The U.S. also took several other dramatic steps Friday, including indictments against Sinaloa cartel traffickers, fresh Treasury Department sanctions on Chinese suppliers of precursor chemicals and new multimillion-dollar rewards for information leading to the arrest or conviction of 27 known smugglers.
Article content
"We are poised to continue the use of this important tool," said Secretary of State Antony Blinken, "not only to support our partners, but also to help provide justice and accountability to those impacted by the careless distribution of a deadly substance."
Lately, though, Mexican President Andres Manuel Lopez Obrador hasn't been making things any easier.
Last month, he blamed the U.S. crisis on the "disintegration of families" and "a lack of love, of brotherhood, of hugs and embraces." Two weeks ago, he accused the U.S. of "rude threats" and a "demagogic attitude" in a letter he wrote to Chinese President Xi Jinping asking that country to block shipments of fentanyl's precursor chemicals.
And on Monday, the man known as AMLO wrapped up one of his famously long-winded news conferences with an editorial cartoon depicting a strong-arm version of Uncle Sam lobbing hypodermic syringe-darts at a map of Mexico.
That ire may be fuelled by a proposed Republican bill that would target nine of the largest Mexican drug cartels and designate them as terrorist organizations — a step critics describe as akin to a literal war on drugs.
The idea has been endorsed by several Republican presidential hopefuls, including Donald Trump, who famously mused as president about launching counter-terrorism operations in Mexico before cabinet members intervened.
This report by The Canadian Press was first published April 18, 2023.
— With files from Dylan Robertson in Ottawa.