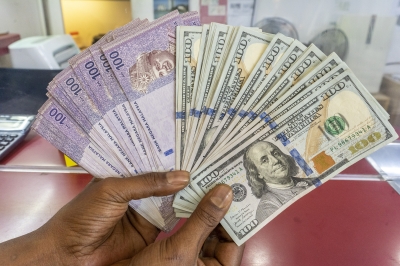 KUALA LUMPUR, April 19 — The ringgit rose against the US dollar in the early session today as the United States (US) Federal Reserve officials continued their hawkish stance, favouring another 25 to 75 basis points interest rate hike in the near term.
At 9.03am, the local note was pegged at 4.4275/4320 versus the greenback from Tuesday's closing rate of 4.4315/4360.
However, Bank Muamalat Malaysia Bhd chief economist Mohd Afzanizam Abdul Rashid expects the ringgit to stay soft as the US dollar/ringgit pair was already in the overbought position from the technical perspective.
"The ringgit might linger around RM4.44 against the US dollar today.
"Meanwhile, China's higher-than-expected gross domestic product in the first quarter of 2023 at 4.5 per cent reported yesterday suggests that the Malaysian economy would benefit from it via trade and investment, so this should be positive for the ringgit in the medium term," he told Bernama.
In the meantime, the ringgit traded higher against a basket of major currencies.
It rose slightly against the Japanese yen to 3.3031/3067 from 3.3046/3082 at the close on Tuesday, advanced to 4.8618/8668 from 4.8631/8681 vis-a-vis the euro, and appreciated against the British pound to 5.5034/5090 from 5.5101/5157 yesterday.
At the same time, the local note was traded mixed against Asean currencies.
It was slightly higher against the Indonesian rupiah to 298.2/298.7 from 298.5/299.0 yesterday and rose against the Singapore dollar to 3.3242/3281 from 3.3265/3301 previously.
However, it had eased to 7.90/7.91 against the Philippines' peso from Tuesday's close of 7.89/7.90 and depreciated against the Thai baht to 12.9285/9477 from 12.9228/9416 previously. — Bernama