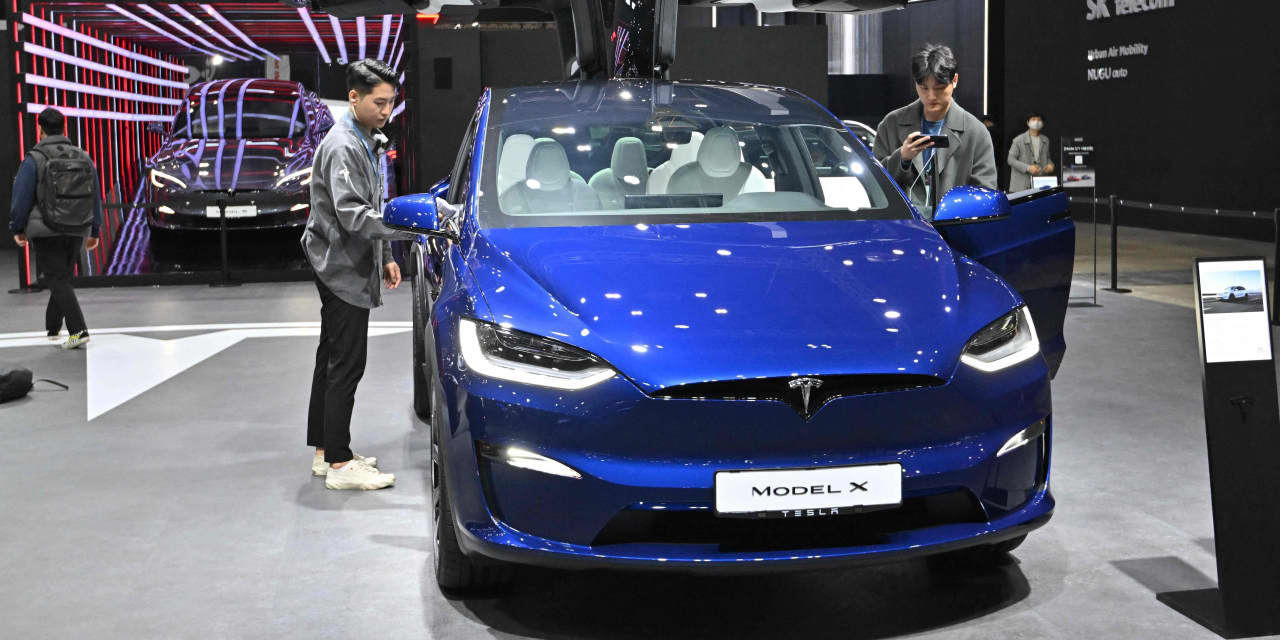 Tesla Inc. stock dropped more than 4% in the extended session Wednesday after the electric-vehicle maker missed quarterly expectations for its revenue and saw adjusted profit margins drop in the quarter.
Tesla
TSLA,
-2.02%
earned $2.5 billion, or 73 cents a share, in the first quarter, compared with $3.3 billion, or 95 cents a share, in the year-ago period. Adjusted for one-time items, the company earned 85 cents a share.
Revenue rose 24% to $23.3 billion.
Analysts polled by FactSet expected Tesla to report adjusted earnings of 85 cents a share on sales of $23.6 billion.
"Although we implemented price reductions on many vehicle models across regions
in the first quarter, our operating margins reduced at a manageable rate," Tesla said in a letter, saying that they stood at 11%.
"We expect ongoing cost reduction of our vehicles, including improved production
efficiency at our newest factories and lower logistics costs, and remain focused on
operating leverage as we scale."
Pricing will continue to "evolve upwards or downwards, depending on a number of factors," the company said.
Ebitda margins dropped to 18.3%, from nearly 27% in the year-ago quarter.
The drop to 18.3% "doesn't concern me at this point in time," Bill Selesky at Argus Research said after the results. "I don't see it as a huge miss."
The EV maker said it expected to "remain ahead" of its long-term goal of increasing its production rate by 50% annually, producing 1.8 million vehicles in 2023.
The Cybertruck, Tesla's electric pickup truck, is on track to begin production later in the year at the Texas plant and Tesla continues to "make progress" on its next-generation EV platform, it said in the letter.
The company ended the quarter with cash and equivalents as well as investments of $22.4 billion, $217 million more than at the end of the fourth quarter.
The economy presents a "unique opportunity" for the company, Tesla said in the letter.
Tesla is aiming "to leverage our position as a cost leader. We are focused on rapidly growing production, investments in autonomy and vehicle software, and remaining on track with our growth investments."
Tesla unveiled a fresh round of U.S. price cuts earlier Wednesday in a bid to boost demand amid concerns of a weakening economy, but also one bound to cut into the company's profit margins.
See also: Here's how much Tesla short sellers have lost so far this year
In January, Tesla reported operating margins of 16% for the fourth quarter and 16.8% for all of 2022. First-quarter 2022 margins were "over 19%," Tesla said last April.
Tesla pinned the drop in the first quarter in part to higher commodities, logistics and warranty prices, lower credit revenue, and increases in ramping up producton of new battery cells.
Tesla stock has fallen about 46% in the past 12 months, compared with losses of around 7% for the S&P 500 index
SPX,
-0.01%.
So far this year, however, the stock is up 49%, compared with an advance of 8% for the S&P 500.