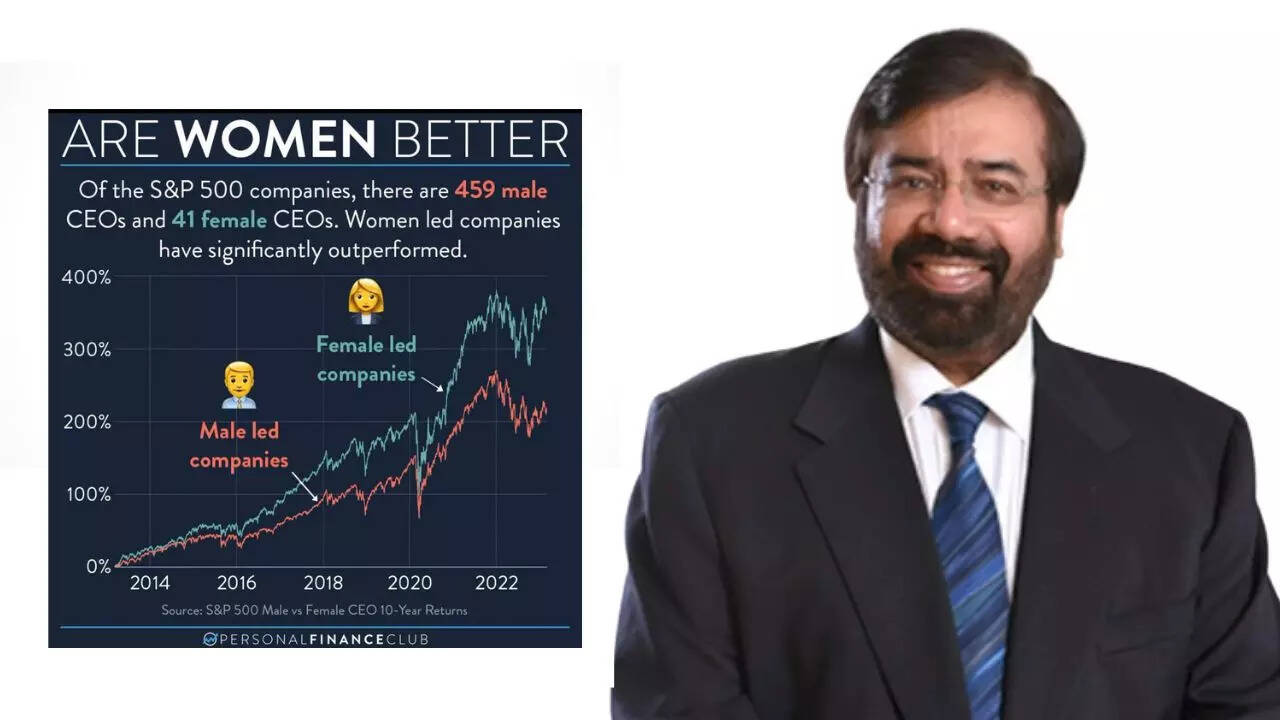 THE FUTURE IS FEMALE! Harsh Goenka shares INTERESTING 'Are Women Better' S&P 500 Companies data
Photo : ET Now Digital
Are women better than men? While there might not be a sure shot answer to this, what is certain is that females are leaving no stone unturned to prove their merit. The participation of the female workforce is on a constant rise since the past few years and this is changing things for good. What's even more interesting is that some of the world's top companies being led by women, gave better returns in the past decade.
A comparison of returns given by S&P 500 companies led by male versus female CEOs in the last 10 years presents a unique picture. Of the top 500 firms, 459 were led by male CEOs while 41 by female CEOs. A closer at the returns given these companies between 2014 and 2022, there seemes a significant difference.
The 41 companies that had a woman CEO at the help outperformed the 459 led by male CEOs.
Industrialist and
RPG Group
Chairman
Harsh Goenka
on Wednesday shared a graph depicting the same, saying that the future belongs to the females. "Over the past 10 years, the difference in returns is 384 per cent from female-led companies vs. 261 per cent from male-led companies," he tweeted
Why? Research shows women leaders have more empathy, creativity, mentor better, stay humble and lead with compassion, Goenka noted, adding, "THE FUTURE IS FEMALE!"
Over the past 10 years, the difference in returns is 384% from female-led companies vs. 261% from male-led companie… t.co/3M1CkjovxI

— ANI (@ANI) Apr 19, 2023
In January this year, the share of
Fortune 500
companies led by female CEOs rose to 10 per cent for the first time. It has been stuck at around 8 per cent earlier. The Fortune 500 list's 68-year history saw the share of firms with a woman CEO at the helm rising to 10 per cent.
Meanwhile, Goenka, earlier this month, presented a case for India become a global leader by citing the example of the ban on Chinese app TikTok. The RPG Group Chairman shared how the world follows what we think today. "India banned TikTok in 2020. America considering banning TikTok now," the industrialist wrote, adding, "A case of 'what India thinks today, the World will think tomorrow'."