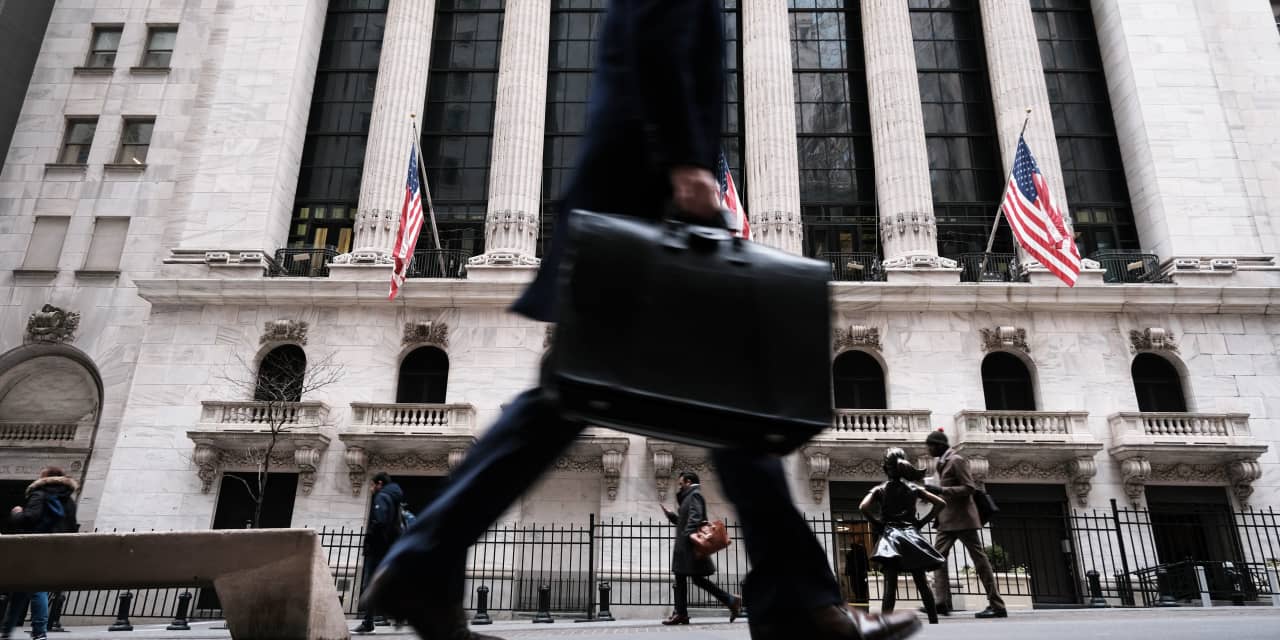 Investors were cautious ahead of another batch of U.S. earnings that include Tesla Inc, Morgan Stanley and International Business Machines Corp.
How are stock-index futures trading
S&P 500 futures
ES00,
-0.52%
dipped 17 points, or 0.4% to 4163
Dow Jones Industrial Average futures
YM00,
-0.44%
fell 108 points, or 0.3% to 34016
Nasdaq 100 futures
NQ00,
-0.78%
eased 75 points, or 0.6% to 13118
On Tuesday, the Dow Jones Industrial Average
DJIA,
-0.03%
fell 11 points, or 0.03%, to 33977, the S&P 500
SPX,
+0.09%
increased 4 points, or 0.09%, to 4155, and the Nasdaq Composite
COMP,
-0.04%
dropped 4 points, or 0.04%, to 12153.
What's driving markets
U.S. stock futures dipped early Wednesday after sticky double-digit inflation in the U.K. sparked selling of government bonds.
Still, with markets seemingly more relaxed of late about the trajectory of U.S. interest rates — the chances of the Federal Reserve increasing borrowing costs by 25 basis points in two weeks time is priced at 88% — trader attention currently is more focused on company profits.
The mixed nascent U.S. first quarter corporate earnings season has left stocks struggling to extend their recent rally. The S&P 500 remains stuck within, though near the top, of the 3,800 to 4,200 range it has inhabited for about five months.
Minimal moves and a more relaxed mood saw the CBOE VIX index
VIX,
+4.10%,
a gauge of expected stock market volatility close below 17 on Tuesday, its lowest since January 2022.
"The market has been collecting a few duller days of late but it probably wouldn't want to swap for those seen a month or so ago [when the banking crisis hit]. The last 24 hours fitted into that narrative with most major assets closing either side of unchanged," said Jim Reid, strategist at Deutsche Bank.
"We did get several earnings releases to chew over, but they were pretty mixed overall and didn't point to an obvious conclusion for investors, and it was much the same from yesterday's limited round of data," he added.
Results due on Wednesday include Morgan Stanley
MS,
+0.63%,
Nasdaq Inc.
NDAQ,
-0.29%,
Travelers Cos. Inc.
TRV,
+0.42%,
U.S. Bancorp
USB,
-1.12%,
with Tesla Inc.
TSLA,
-1.46%,
 IBM
IBM,
-0.03%,
Lam Research Corp.
LRCX,
+0.55%
and Alcoa Corp.
AA,
+3.31%
due after the market close.
"This week we will have a better grip on earnings as the flow of corporate results makes its way on Wall Street. We note that the indices have had a solid run to the up side and could be headed for a slight pullback that we will not likely impact the longer term upward trend," said Peter Cardillo, chief market economist at Spartan Capital.
"We therefore expect the near term trend to remain bullish, with the S&P 500 testing the 4250 area in the short term," he added.
The Federal Reserve's Beige Book of economic anecdote will be published at 2 p.m. and New York Fed President Williams is due to speak at 7 p.m., all times Eastern.