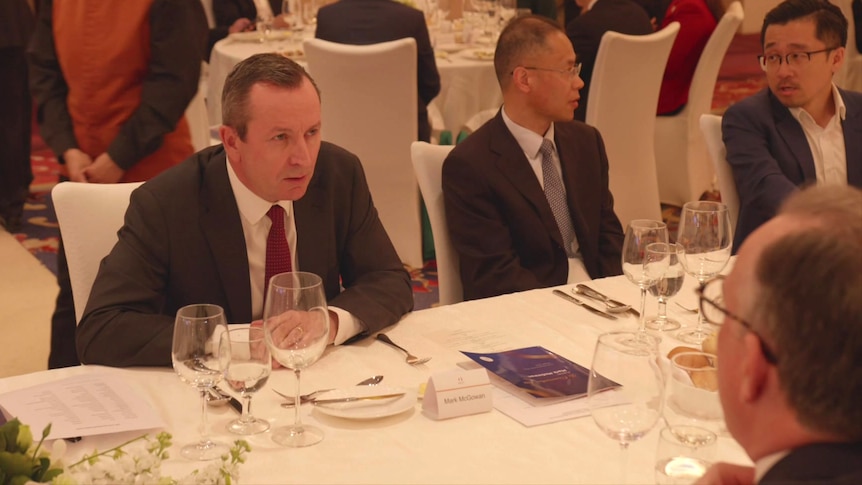 The WA premier has been caught in another hot-mic scandal on the first day of his trade mission to China, after a camera picked up a conversation where he said Australia's federal shadow defence minister had "swallowed some kind of Cold War pills".
Key points:
Mark McGowan made disparaging remarks about Andrew Hastie while in China
Mr Hastie responded with a statement of his own
He described the WA premier as a 'prison guard looking for work'
Mark McGowan flew into Beijing on Tuesday for his first visit to WA's largest trading partner since COVID.
One of his first engagements was a lunch meeting hosted by the China-Australia Chamber of Commerce (AustCham), where he told attendees there was "nothing like" the relationship between China and WA and advocated for the end of tariffs imposed on Australian goods.
Footage of the event provided to media outlets included shots of a conversation Mr McGowan had with AustCham's chair, Vaughn Barber.
"So, a guy like [former finance minister] Mathias Cormann had the same view as me, but he had no sway on this issue," Mr McGowan can be heard telling Mr Barber.
"He had a lot of sway, but on this issue he was the odd one out. The other West Australian who was senior was … [Andrew] Hastie.
"He swallowed some kind of Cold War pills back when he was born and he couldn't get his mindset out of that."
The remarks prompted a swift rebuke from Mr Hastie, who accused the premier of being "out of his intellectual depth".
"The truth is that he's a prison guard looking for work now that the pandemic has finished," Mr Hastie said in a statement.
"I'm not surprised he's running down Australian MPs in China.
"But it is surprising from a former legal officer in the Royal Australian Navy.
"I'm not sure I'd want to serve alongside him on a naval ship in a crisis. Character is everything.
"What's he really saying when the cameras aren't running?"
Differing China views
Mr Hastie said he wished Mr McGowan would focus on "things that matter", like fixing the main hospital in his Rockingham electorate, as well as the housing shortage.
"Instead he's off to China, trying to do Penny Wong's job as foreign minister. He should do himself a favour and read her latest speech," he said.
That comment was a reference to Ms Wong's National Press Club address on Monday, in which she declared that the strategic contest in Asia was about much more than the US and China, and said Australia wanted "strategic equilibrium" in the region. 
Mr McGowan and Mr Hastie have long been at odds over their views on China.
In 2019, Mr Hastie was condemned by China after he used an opinion piece in The Age and The Sydney Morning Herald to link the West's handling of China's rise to a failure to contain the advance of Nazi Germany. 
Later that year he was blocked from a study tour to China, with an embassy spokesperson saying the country would not "welcome those who make unwarranted attacks" on their nation, and calling on him and fellow Liberal senator James Paterson to "repent" for their criticism of the Chinese Communist Party. 
Mr McGowan has maintained a very different tone on China, last year accusing the eastern states of failing to appreciate China's contribution to Australia's economic success.
Just under half of all of WA's trade is with China, worth an estimated $146.3 billion annually.
Last month the premier apologised to the state's parliament after a microphone captured a private conversation with Deputy Premier Roger Cook in which he described issues with gold the Perth Mint sent to China as a "storm in a f***ing tea cup".