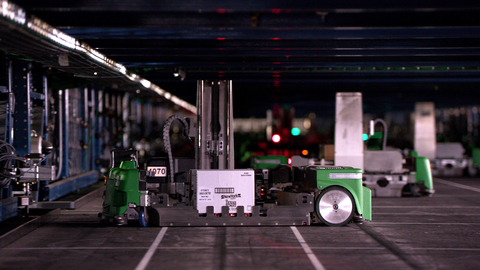 Walmart is investing $21 million to automate its New Braunfels regional distribution center, one of 42 such facilities nationwide the giant retailer will be retrofitting by 2030.
The Bentonville, Ark.-based company said the robotics and software automation technology developed by Wilmington, Mass.-based Symbotic will help it more quickly receive and ship items, manage inventory and handle customers' orders.
ALSO READ: Did Spec's thwart Walmart's bid to sell liquor in Texas by buying firm once owned by Gabriel family?
Regional distribution centers like the one at 3900 N. Interstate 35 Frontage Road  in New Braunfels ship non-refrigerated merchandise to Walmart's more than 4,700 stores. When retrofitted with the new technology, such facilities will be able to ship nearly twice the number of cases and hold twice as many products, according to the company.
"The need for accuracy and speed in the supply chain has never been more visible, and we're confident that now is the time to move even faster by scaling Symbotic's technology to our entire regional distribution center network," David Guggina, senior vice president of innovation and automation at Walmart, said in an announcement last year. "Using high-speed robotics and intelligent software to organize and optimize inventory, the Symbotic system helps us get products to our customers quickly and seamlessly by revolutionizing how we receive and distribute products to stores."
Work to upgrade the New Braunfels facility is expected to start in June and be complete in July 2024, according to a filing with the Texas Department of Licensing and Regulation.
A spokesperson for Walmart did not directly address an inquiry about whether any jobs would be eliminated as a result of the technology upgrade, but cited the following excerpt from a recent press release:
"As the changes are implemented across the business, one of the outcomes is roles that require less physical labor but have a higher rate of pay," the company release states. "Over time, the company anticipates increased throughput per person, due to the automation while maintaining or even increasing its number of associates as new roles are created."
Walmart opened its New Braunfels warehouse in 1988.
madison.iszler@express-news.net