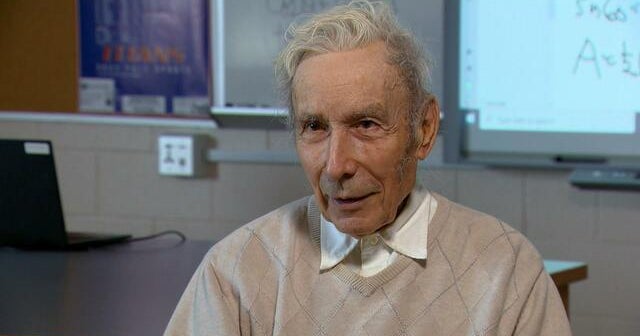 Almost a quarter of a million teachers are expected to retire this year nationwide. But even at 91, math teacher Lou Kokonis isn't one of them.
Kokonis has taught math for 63 years at Alexandria City High School in northern Virginia, touching the lives of 6,400 students.
With no wife or children, Kokonis devotes himself entirely to his students, offering free tutoring on Saturdays and being the first to arrive each day.
"For him to be working in teaching for this long and to still, like, put in all this extra effort on Saturdays, I really admire that about him," said Mohamed Eltireke, one of Kokonis' students.
Despite the improvement in pay from the $4,800 per year that Kokonis earned in 1959, teaching salaries still significantly lag behind other professions requiring a college degree. Additionally, studies have shown that teachers and principals experience twice the level of stress compared to other professions. 
Despite this and his age, Kokonis doesn't consider retirement an option.
"I don't think that way. My mind is set that I'm going to do well this year, and I'm going enjoy it, and I'm going to try to come next year if they'll take me," Kokonis said.
Kokonis inspires and advises teachers and students alike, and though new challenges may arise like students' attachments to their cellphones — "It's not easy trying to keep them from using their cellphone. They're addicted to it," Kokonis said — he continues to make a positive impact in his students' lives.
Thanks for reading CBS NEWS.
Create your free account or log in
for more features.