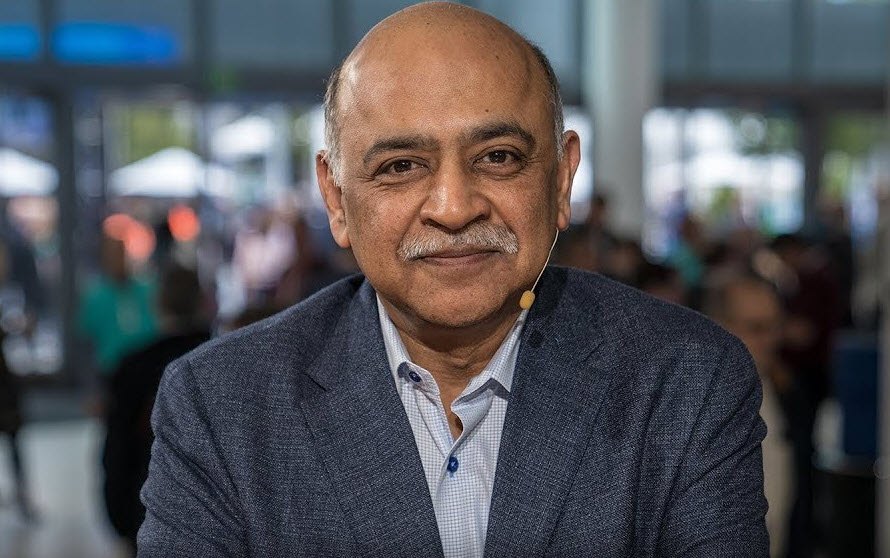 IBM Corp. narrowly missed revenue expectations for the first quarter but strong earnings results and strength in its software business helped drive shares up nearly 2% in after-hours trading.
The enterprise computing giant reiterated its full-year outlook of revenue growth in the 3% to 5% range while cautioning that there could be some weakness in its consulting business. Revenue rose 4.4% from a year earlier in constant currency terms, to $14.25 billion, but that was about $100 million below Wall Street's consensus estimate. However, IBM said the strong U.S. dollar lowered adjusted revenue by more than $1 billion.
Adjusted profits of $1.36 a share beat consensus estimates of $1.26 per share and free cash flow of $1.3 billion was well ahead of consensus estimates of $870 million.
Software revenue inched up 1.6%, to $5.9 billion, and the company's Red Hat unit had strong 8% growth. Consulting revenue rose 8.2% when adjusted for currency, to $5 billion was up 8.2%. All those figures were in line with expectations.
The company's infrastructure business, which includes mainframe computers, came in just short of estimates at $3.1 billion, affected by last year's launch of a new generation of mainframe computers.
Growth and cash flow
"We had a good start to the year with mid-single digit revenue growth at constant currency in line with our midterm model and growth in free cash flow," Chief Executive Arvind Krishna (pictured) said in prepared remarks. "Performance was led by software and consulting as clients continue to accelerate their digital transformations, modernizer applications, automate their workflows and create flexible and secure hybrid cloud environments." He reiterated that revenue and cash flow growth are top priorities for the company for the remainder of the year.
Investors were encouraged that the company stayed the course on full-year forecasts while cautioning that the spending environment remains unpredictable.
"IBM's expectations qualify as a sort of cautious optimism, which seems entirely sensible given its exposure to global economic circumstances that are more volatile than in the U.S.," said analyst Charles King of Pund-IT Inc. "But it also demonstrates how IBM and some other enterprise infrastructure-focused vendors have avoided much of the pain that many consumer product vendors are suffering."
Consulting business slowing
However, Constellation Research Inc. Principal Analyst Holger Mueller noted that IBM's overall growth was below inflation, "so IBM impossibly shrunk in real dollars," he said. Noting that Krishna warned that the consulting base may be experiencing some softness, he noted that the company's focus on margin growth may argue against keeping the consulting arm for the long term.
"With gross profit close to 80% in software, 52% in infrastructure and 44% in financing, the question is: How long should IBM keep consulting [and its 25% margins] around?" he asked.
In an earlier interview with Barron's, Krishna acknowledged that "there's been a little bit more slowdown on consulting in North America than I would have expected six months ago." However, he said the company's focus on vertical market applications of artificial intelligence in industries like customer care, digital workers, information technology operations and cybersecurity requires a high level of customer contact.
Artificial intelligence, an area in which the company was a pioneer with its Watson question-answering computer, will be a strong focus going forward, Krishna said. "AI is projected to add $16 trillion to the global economy by 2030 and early client engagements experience a 70% faster time to value" with AI compared with conventional data processing projects, he said.
Infrastructure growth slows
Revenue for the company's z Systems mainframe line grew 11% at constant currency rates, while distributed infrastructure sales were flat. Infrastructure revenue for the full year is expected to decline in line with the end of a product, said Chief Financial Officer James Kavanaugh, although he noted that IBM has shipped twice as much computing power in sales of its z15 mainframes than its predecessor z14.
Pund-IT's King noted that IBM's decision to jettison some of its low-margin businesses and focus on enterprise sales has helped insulate it from the overall tech industry downturn.
"Large organizations have the means to invest in solutions and services that they believe can help them improve or grow," he said. "IBM's laser focus on enhancing and strengthening core processes, including advanced analytics, business transformation, security and operations, makes it a trusted partner." That, in turn has helped it avoid the painful "serial layoffs" that some of the more consumer-focused technology firms have experienced over the past year.
Photo: SiliconANGLE
---
Your vote of support is important to us and it helps us keep the content FREE.
1-click below supports your our mission for providing free content.  
Join the community that includes over 15k #CubeAlumni of experts including Amazon.com CEO Andy Jassy, Dell Technologies founder and CEO Michael Dell, Intel CEO Pat Gelsinger and many more luminaries and experts.
THANK YOU