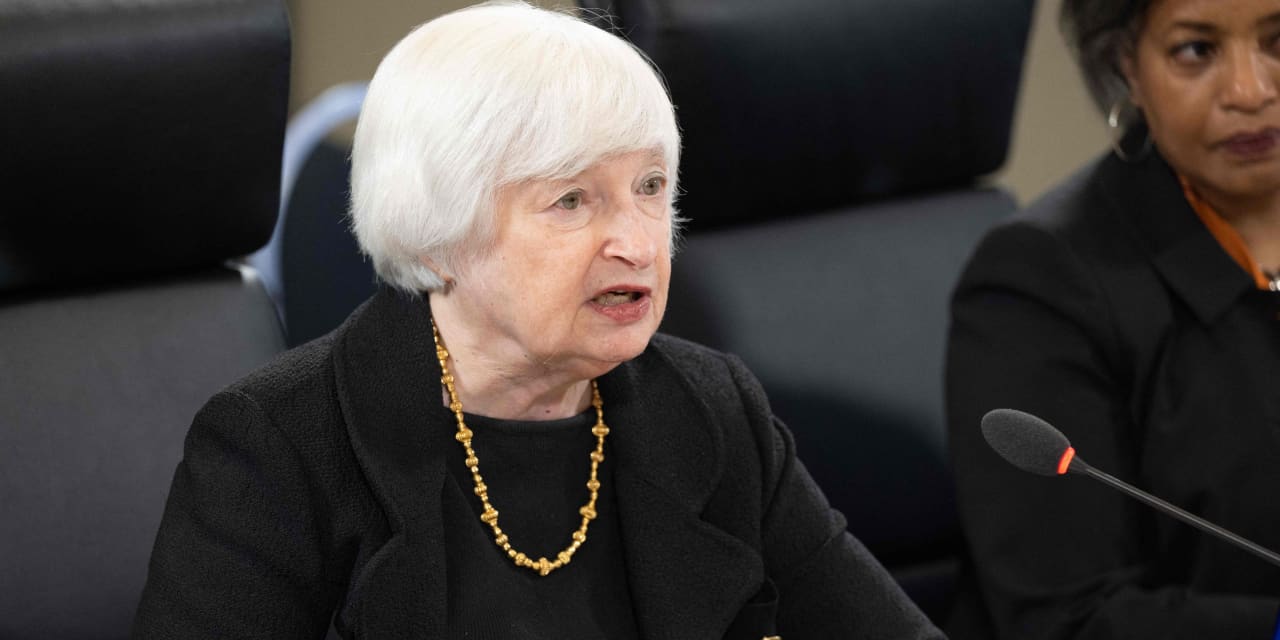 Treasury Secretary Janet Yellen on Thursday criticized China's aid to companies as she set out how the U.S. is approaching competition with the world's No. 2 economy in what she said was a "tense moment" in bilateral relations.
In a speech Thursday at the Johns Hopkins University's School of Advanced International Studies, Yellen said China has acted illegally.
" 'As in all of our foreign relations, national security is of paramount importance in our relationship with China. For example, we have made clear that safeguarding certain technologies from the PRC's military and security apparatus is of vital national interest.'"

— Janet Yellen

China in recent years has expanded support for its state-owned enterprises and domestic private firms to "dominate foreign competitors," she said. "This strategy has been coupled with aggressive efforts to acquire new technological know-how and intellectual property — including through IP theft and other illicit means."
Yellen said the U.S. will prioritize national-security interests even at the expense of the economy.
We will not compromise on these concerns, even when they force trade-offs with our economic interests," she said.
"As in all of our foreign relations, national security is of paramount importance in our relationship with China. For example, we have made clear that safeguarding certain technologies from the PRC's military and security apparatus is of vital national interest," she said. She stressed that the U.S. will not just protect its own national-security interests but also those "of our allies and partners" — likely an allusion to Taiwan — as well as human rights, she said.
Yellen said the U.S. was seeking cooperation on global challenges, such as climate change and debt distress. "We call on China to follow through on its promise to work with us on these issues — not as a favor to us, but out of our joint duty and obligation to the world. Tackling these issues together will also advance the national interests of both of our countries."
Don't miss: Obstacles remain on China's path from 'zero COVID' standstill to breakneck-pace consumption
Yellen said that it was "essential" that China and other countries do not provide Russia with material support or assistance with sanctions evation.
"The consequences for any violations would be severe," Yellen said.
The Treasury secretary made no mention in the released excerpts of the tariffs imposed on China by the Trump administration that have been left in place by Biden. According to the Peterson Institute for International Economics, tariffs of 19% apply on roughly two-thirds of China's exports. Chinese tariffs of 21% apply to 58% of U.S. exports.
A spokesperson for China's commerce ministry said U.S. and Chinese officials met last week, discussing trade and communication, as a report said Commerce Secretary Gina Raimondo may visit Beijing and Shanghai.
Concern about disintegrating U.S. and China relations dominating the discussion at the spring meeting of the World Bank and International Monetary Fund in Washington last week.
IMF Managing Director Kristalina Georgieva went so far as to speak about the possibility of another Cold War.
Steven Roach, former chairman of Morgan Stanley Asia and current Yale University senior fellow, said putting national security as the main priority means the two sides are left staring at each others red lines.
Roach said he has just written a book on how to figure out of the conflict.
"Yellen's speech doesn't give me an off ramp. It's a clear statement of principles, from which there is no avenue of compromise. And I weigh those against a comparable approach taken by China. And the dynamic is very disconcerting to say the least," Roach said, in an interview.
Derek Scissors, a senior fellow at the American Enterprise Institute, said the speech was "a complete waste of time."
"Did you know the Biden administration was saying it wants to compete, and confront China when necessary but also cooperate. Did you know that?," Scissors said. It looks like they are obsessed with making sure that China and our allies don't think they are mean, he added.
Yellen should have been specific about where the U.S. was going to confront China, and where it would compete. He said there is a striking lack of cooperation.
Dan Ikenson, an international trade expert who spent 20 years as director of the libertarian Cato Institute, said China didn't know what to do with criticism from the Trump and Biden White House.
He thought Yellen clearly articulated the concerns that U.S. business has and that its not just revenues and profits.
"It just seems like this was an olive branch that I've not seen before," he said.
Adam Posen, head of the Peterson Institute for International Economics, said that Yellen's speech is a good start on a strategy.
"A U.S. strategy that recognizes China's right to modernize and acknowledges that there are economic costs to pursuit of worthy national security goals is a reality-based sustainable starting point for a strategy that is neither a crusade nor a fantasy," he said.
Three things are missing, Posen added. A statement on the goal of confronting China through economic means, a process for defining and assuring free trade and deciding when it is worth accepting economic costs for national security goals.
"How will the Biden administration prevent national security concerns from taking over the whole economic apparatus?" he asked.