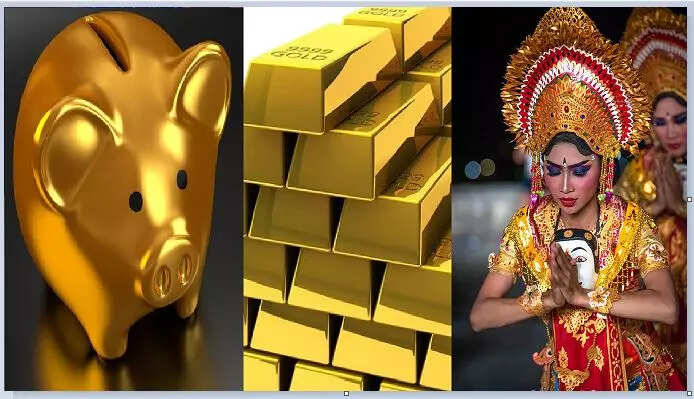 Akshaya Tritiya is considered as an auspicious day to buy gold. The yellow metal's imperishable and timeless qualities make it an ideal pick on such days that mark prosperity and wealth in Indian culture.
Akshaya Tritiya 2023
:
Akshaya Tritiya
is considered as an auspicious day to buy
gold
. The yellow metal's imperishable and timeless qualities make it an ideal pick on such days that mark prosperity and wealth in Indian culture. As we approach the auspicious occasion of Akshaya Tritiya this year, there are lots of questions on investors' mind like should one invest in
digital gold
? What about physical gold? Gold ETFs? Is
buy on dips
are good strategy? What will be sales trends this year?
Here is what experts have to say:-
Akshaya Tritiya 2023: Digital Gold – Convenient way to buy gold
"We anticipate a substantial surge in the demand for digital gold this Akshaya Tritiya. We have observed that millennials are increasingly showing a preference for investing in digital gold as it offers them an effortless and convenient way to buy gold without having to invest in physical gold," Yashoraj Tyagi, CTO, & CBO, CASHe, said.
Akshaya Tritiya 2023: Digital Gold – Popular among millenials
"Digital gold has gained popularity over the past few years as it offers investors an efficient, secure, and cost-effective way to invest in this precious metal. With digital gold, investors can invest in gold without the need to worry about storage and security concerns that come with physical gold investments. Moreover, the ease of investing in digital gold has made it a popular investment option among millennials who are looking to invest their money in assets that offer stable returns," adds Yashoraj Tyagi.
Akshaya Tritiya 2023: Should you buy on dips? 'Opt for Gold ETFs'
"We anticipate that this Akshaya Tritiya will be as lively as ever, but the traditional practice of purchasing physical gold may be subdued due to soaring gold prices, currently quoted at over Rs. 60,000/- per 10 gms, making it challenging for potential investors. We expect symbolic buying to continue, but the quantum may taper. This development might negatively impact the overall demand generally witnessed during this period. Last year, Gold rallied close to 14.3%, in line with our projected price trend," Pritam Patnaik, Head – Commodities, HNI & NRI Acquisitions at Axis Securities said.
"Of late, Gold prices have rallied as the market widely anticipates that we are in the last legs of arguably the longest, if not the most painful, interest rate hike cycles. If one were to review the historical reaction of extended periods of rate hikes cycles, since 1961, the Fed has attempted nine such full cycles of rate hikes, out of which eight ended up in a recession. Gold prices seem to correct at the time of the actual announcement of the rate hikes but subsequently witness significant rallies as either the intensity of the rate hike starts to wane or is suspended altogether. The possibility of an impending recession, owing to extended periods of high-interest rates, failing banks, and the collapsing dollar index, has further added to the safe haven appeal of Gold, reflected in the gold prices. These factors could propel Gold towards Rs.65000/- in the medium to long term. In the near term, the central bank's fight against the sticky inflation still wages on. The US FED has set a target inflation rate of 2%. To achieve the target, it may go ahead with an additional 25 basis points increase, which might positively impact the dollar index and may hurt the non-interest-bearing asset like Gold. This correction, if any, can be used to build a long-term position in the yellow metal. Investors holding on to physical Gold may continue to hold with a target of Rs. 65,000. We recommend new investors buy on dips. Those looking for other gold-related instruments can opt for Gold ETFs," Pritam Patnaik added.
Akshaya Tritiya 2023: Sales, Trends, Growth
Talking about Sales, Trends, Growth, ahead of Akshaya Tritiya 2023, Eshwar Surana, Managing Director, Raj Diamonds, said, "Akshaya Tritiya is among one of the biggest jewellery buying festivals in India. While Akshaya Tritiya was largely celebrated in South and East India earlier, we are now seeing it being celebrated across the country. During Akshaya Tritiya, it is believed that whatever is purchased on this day stays with us forever and on such occasions, window shoppers are very few and most of the customers walk in to buy. There has been positive sentiment in the market in recent times and we expect it to continue because of a pent-up demand for jewellery and a recovery in discretionary spending among customers."
"With changing times, we have witnessed different trends in the jewellery industry, only to desire for more. Be it the special occasions like weddings or auspicious days like 'Akshaya Tritiya' etc, jewellery makes it a complete affair. Just like every year, we are hopeful and positive that the coming season will be fruitful for the industry, setting new milestones. Overall, we are estimating that there will be a 20-25 percent growth in value terms over last year and will surpass our sales expectations," Eshwar Surana added.