Ethereum Classic jumps over 5% in European trading session. 
ETC is set to trade in a trend channel with weak resistance on the upside.
Expect to see $26 being hit next week as markets remain bullish after the central bank bonanza.
Ethereum Classic (ETC) is set to book a very outright bullish intraday session just hours before the US session kicks in. As the dust is settling for global markets after all major central banks had their say on Wednesday and Thursday, it seems that bulls are in the driver seat, at least for ETC, with some nice upside potential toward $26.
Ethereum Classic starts to shape up for a longer-term uptrend
Ethereum Classic traders had their work cut out for them this week with all the central banks reporting for the first time this year followed by the US job report for January later on Friday. From the looks of it, bulls have not been scared away and are staying the course upward. Some very pretty technical elements are in their favor that could see ETC hitting $26 very soon. There is no fear of overshooting with the Ethereum Classic price as plenty of support is being formed to underpin the price action.
ETC currently respects a trend channel that has seen several tests on both the upside and the downside. The upside looks a bit fragile, which is good for bulls to go for a breakout trade if they want to. It appears that bears are against the ropes now since on the top side the 200-day Simple Moving Average (SMA) is even tilting higher. This is taking place while the steep climb of the 55-day SMA alongside the green supporting trend line of the channel is there as a safety measure should price action slip at any moment.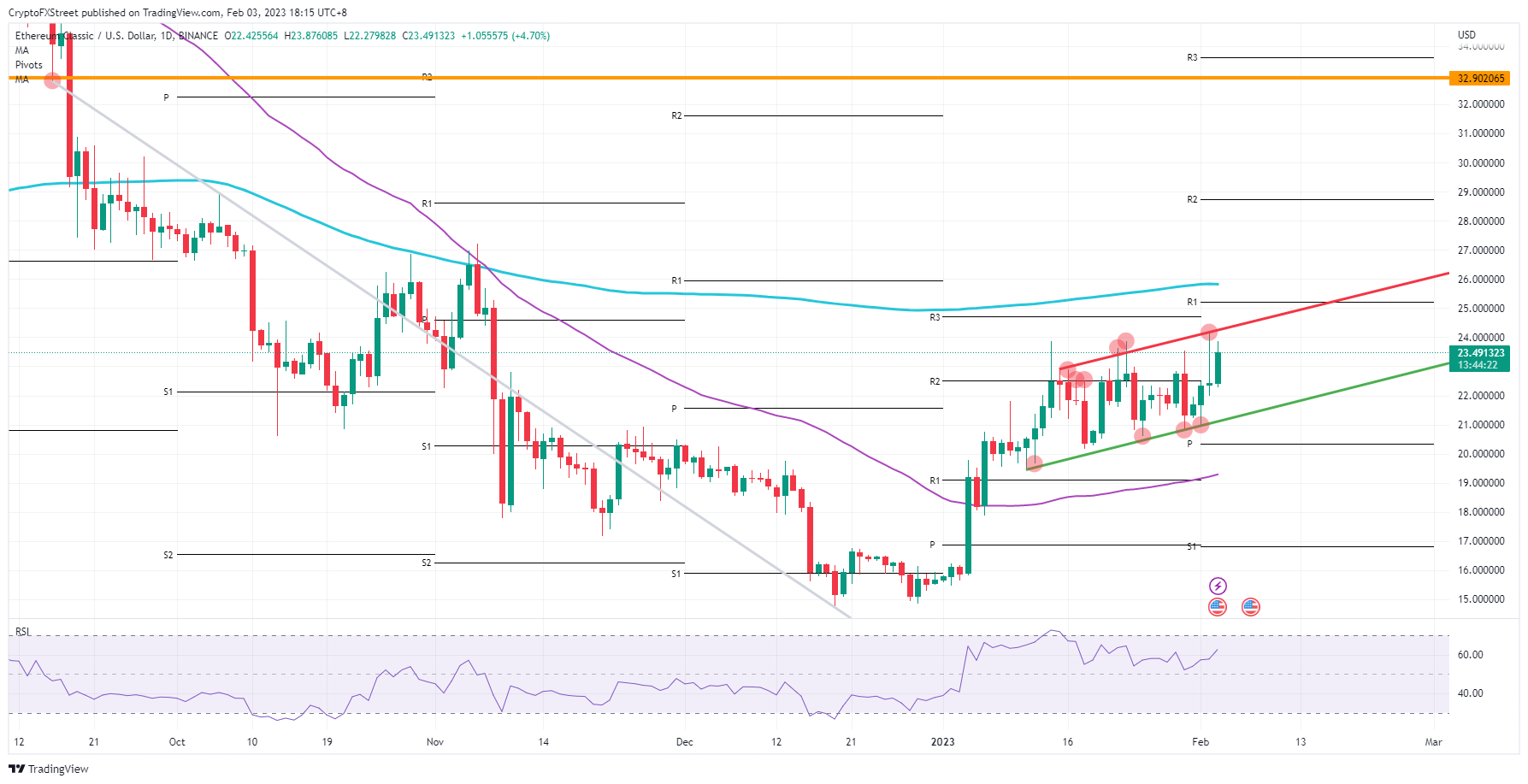 ETC/USD daily chart
As mentioned earlier, the risk to the downside should be underpinned with the green ascending trend line and the 55-day SMA. A third element to add to that is the monthly pivot, which is also held in January. There is a trifecta of why price action should be well-supported and not trade lower. If ETC does sell off due to a sudden shock in the markets, expediting the monthly S1 support level at $17 would do the trick as it falls in line with the monthly pivot from January.