view original
post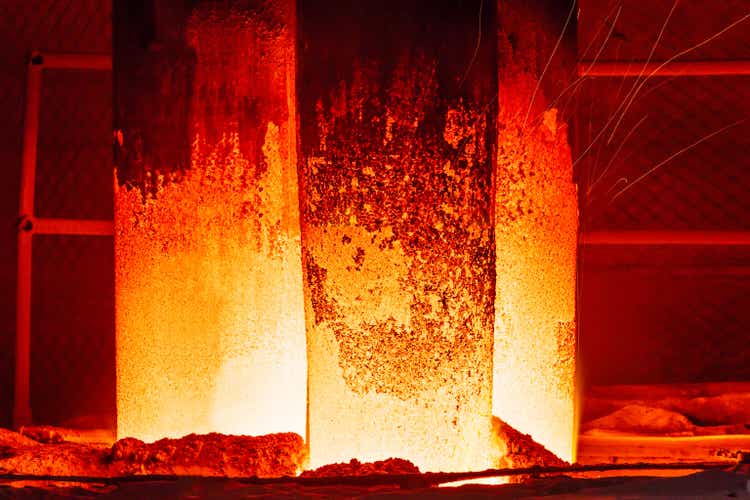 We previously covered Rio Tinto (NYSE:RIO) in June 2023, discussing its brighter prospects as iron ores commanded a normalized higher spot pricing after the pandemic, likely to boost its top and bottom lines despite the uncertain macroeconomic outlook.
With the commodity comprising a large part of its EBITDA, we had rated the stock as a Buy for investors who were comfortable with cyclical movements and variable dividend payouts.
In this article, we will be discussing RIO's excellent H1'23 financial results and FQ3'23 production/ delivery numbers, with it likely allowing the management to hit the upper range of its FY2023 guidance while exceeding the consensus top/ bottom line estimates.
Combined with the potential recovery of property markets in China, we maintain our Buy rating for income oriented investors. We shall discuss further.
The Commodity Investment Thesis Remains Timeless
For now, the commodity investing story has been temporarily put on hold at a time of elevated interest rate environment and generative AI boom.
Despite the rate freeze over the past few months, market analysts expect the eventual pivot to occur much later than the historical average of eight months, potentially delaying the recovery of iron ore demand as China continues to suffer from slow economic activities and poor property sales.
Readers unlikely need any rehashing of the massive generative AI movement brought forth by OpenAI's ChatGPT as well, with the stock market already moving on from the previous hyper-pandemic supply chain issues and the unexpected rise/ fall of most commodity prices then.
The Correlation Of Commodity Spot Prices To RIO's Stock Price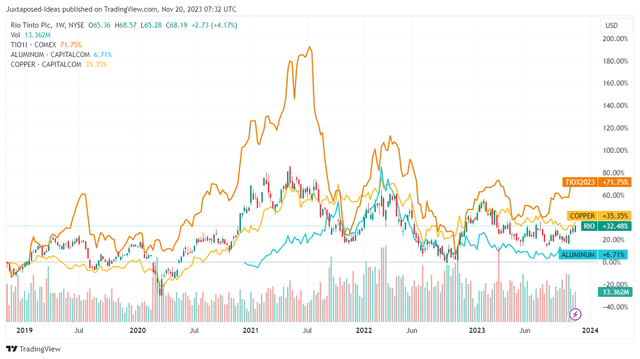 With Mr. Market moving on to the next hype, it is unsurprising to see the previous inflated correlation between the commodity prices and the RIO stock price already normalizing to the pre-pandemic cadence. The list includes iron ore, copper, and aluminum, in order of importance to the miners' bottom and top lines thus far.
This suggests that while RIO may remain cyclical and fluctuate according to the commodities' spot prices, we believe that things may be more predictable as it has been before the pandemic.
Most importantly, the Chinese government is reportedly taking a leaf out of Singapore' public housing strategy, by planning to build multiple social housings in 35 cities while introducing a 1T yuan government support, or the equivalent of $138B.
This approach may potentially "help end a multi-year property slump that's hammered the nation's consumer confidence and weighed on economic growth," naturally boosting the demand for iron ores, building upon the multiple government initiatives introduced since late 2022.
RIO Valuations
Despite the promising developments above, RIO's FWD EV/ EBITDA valuation of 5.19x and FWD Price/ Cash Flow of 6.38x continue to be impacted compared to its 1Y mean of 5.42x/ 7.05x, 3Y pre-pandemic mean of 5.59x/ 7.12x, and sector median of 7.77x/ 7.88x, respectively.
Recovering Iron Ore Spot Prices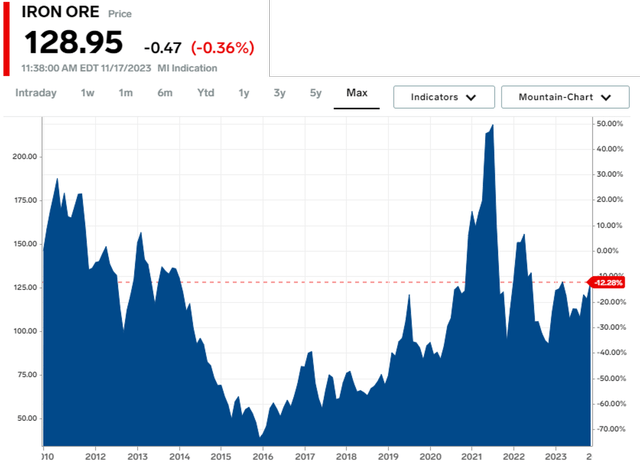 The discount observed in the RIO stock valuations are surprising indeed, given the notable improvements in the iron ore spot prices to $128.95 Mt at the time of writing (+8.6% MoM/ +40.8% YoY), much improved compared to the 2019 averages of $87s Mt though still lagging behind the 2021 peak of $218s Mt.
Since the commodity comprises $9.8B (-5.7% YoY) or the equivalent of 77.1% (-12.6 points YoY) of its underlying EBITDA in H1'23, we believe that the pessimism has been overly done indeed.
In addition, RIO has already reported an excellent FQ3'23 production of 83.5 Mt (+3% QoQ/ -1% YoY) and delivery numbers of 83.9 Mt (+6% QoQ/ +1% YoY).
Based on its YTD numbers of 245.5 Mt (+5% YoY), we may see the management hit the upper end of its FY2023 production guidance range of between 320 and 335 Mt (+1.7% YoY at the midpoint).
Recent Contract Rates For Iron Ores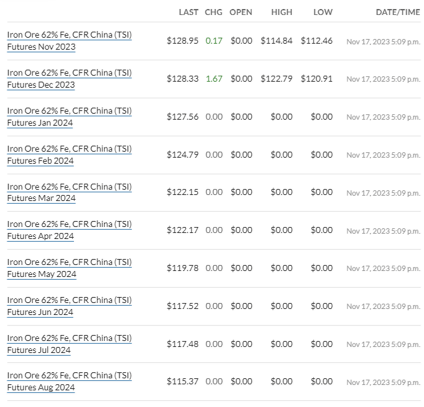 Combined with the widening gap in RIO's H1'23 realized prices of $107.2 Mt (-11% YoY) and the current iron ore spot prices, we may see RIO take advantage of the recovery in H2'23 and generate an improved ROCE than the 63% (-9 points YoY) reported in the first half.
In addition, the commodity's contracted rates in China appears to be improving drastically to between $128.95 Mt in November 2022 and $115.37 Mt in August 2024, suggesting the miner's bright prospects ahead.
Domestic producers continue to consume its existing inventory to 112.28M Mt (+3.81M MoM/ -20.92M YoY) by November 16, 2023 as well, with commodity analysts already expecting the country to import 102.2M Mt in November 2023 (+2.8% MoM/ +3.3% YoY), building upon the 975.84M Mt imported YTD (+6.5% YoY).
The Consensus Forward Estimates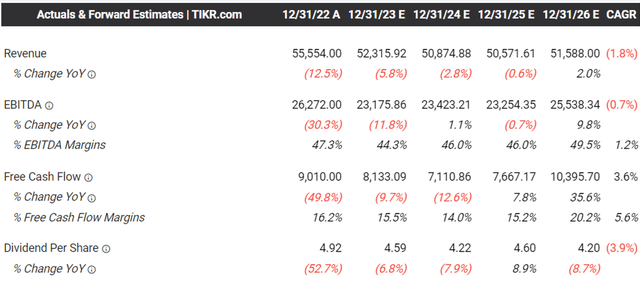 And it is for these reasons that we believe the consensus estimates appear to be somewhat conservative, since RIO may very well generate an improved performance in its FY2023 revenues and adj EBITDA, though likely to still trail behind FY2022's results based on the H1'23's weaker performance.
Even so, we believe that the stock is inherently undervalued to our fair value of $73.74, based on the consensus FY2023 adj EBITDA estimate of $23.17B, its H1'23 share count of 1.63B, and its impacted FWD EV/ EBITDA valuation of 5.19x.
So, Is RIO Stock A Buy, Sell, or Hold?
RIO 5Y Stock Price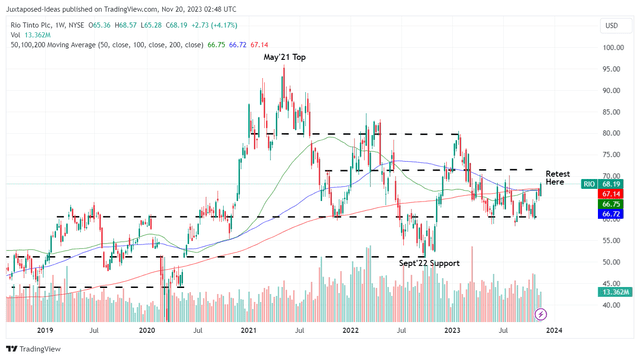 For now, RIO has successfully bounced from the August 2023 bottom, with it likely to trade sideways in the near-term as it has since early 2023.
Most importantly, with the hyper-pandemic optimism already moderated, we believe that we may have found the stock's stable trading pattern between its critical support levels of $60s and resistance levels of $69s. Considering this pattern, we believe that these levels offer a compelling dividend income play.
While RIO is obviously not a growth stock, it remains a viable dividend stock, with the consensus still estimating FY2023 payouts of $4.59, implying an excellent forward yield of +6.7%, compared to the sector median of 2.21% and the US Treasury Yields of between 4.45% and 5.39%.
As a result of its intact dividend investment thesis, we maintain our Buy rating, though with no specific entry point since it depends on individual investors' dollar cost averages, risk appetite, and portfolio allocation.