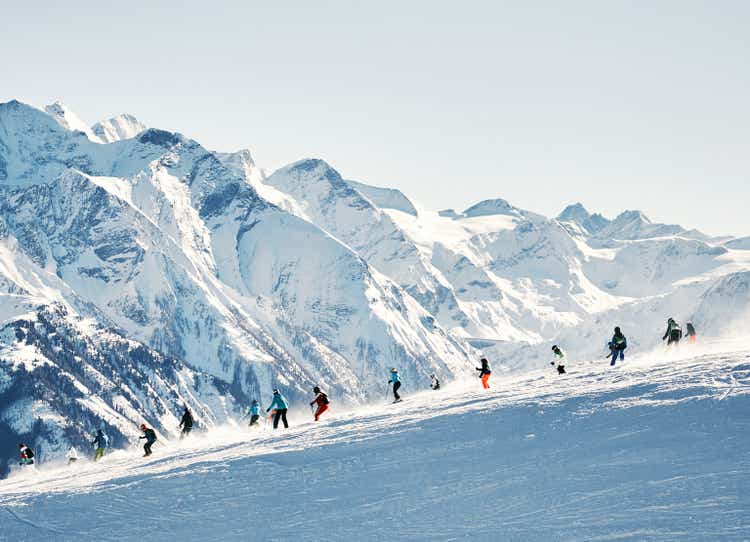 First things first: As expected, the Federal Reserve announced on Wednesday afternoon it would raise its benchmark Fed funds rate by 0.25% to a target range of 4.5%-4.75%-the eighth hike since the Fed began tightening monetary policy nearly a year ago. The central bank is expected to raise rates at least one more time (at its March 20-21 meeting) before pausing.
One month into 2023, though, Fed rate hikes appeared to be one of the few holdovers from 2022. While last month we cautioned investors against hoping the market would turn on a dime in January, that's largely what happened: Stocks rebounded, led by many of the sectors that investors sold so vigorously in 2022.
The catch: One month is not a year. Given the challenges still facing the market-including 2022's headline issue, inflation-there are reasons to be skeptical about the potential significance of January's apparent turnaround.
Morgan Stanley Wealth Management, for example, acknowledges inflation may have peaked, but argues it's unlikely to decline meaningfully. On the contrary, their analysis cites a few potential developments, including a rebound in energy prices and rising import prices, that could prevent inflation from falling significantly this year, thus keeping interest rates higher for longer and the stock market facing continued volatility.1
US equities
January's US index returns represented a complete inversion of 2022's performance: The tech-concentrated Nasdaq Composite led the market, followed by the small-cap Russell 2000, while the Dow Jones Industrial Average-last year's most resilient index-was the weakest performer. The S&P 500 gained 6.3%, its second-strongest January return of the past 20 years: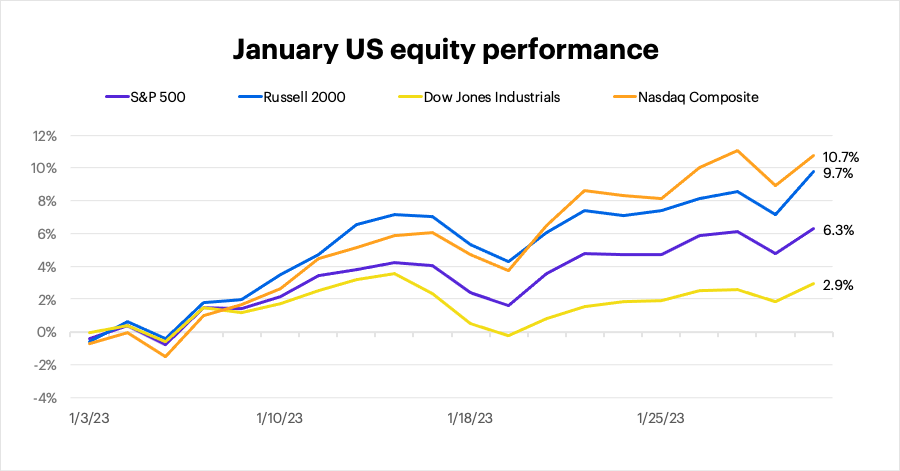 ---
Sectors
Sectors also flipped the script, with some of 2022's worst performers (consumer discretionary and communication services) leading the market last month, while pockets of strength from last year (utilities, health care, and consumer staples) declined in January: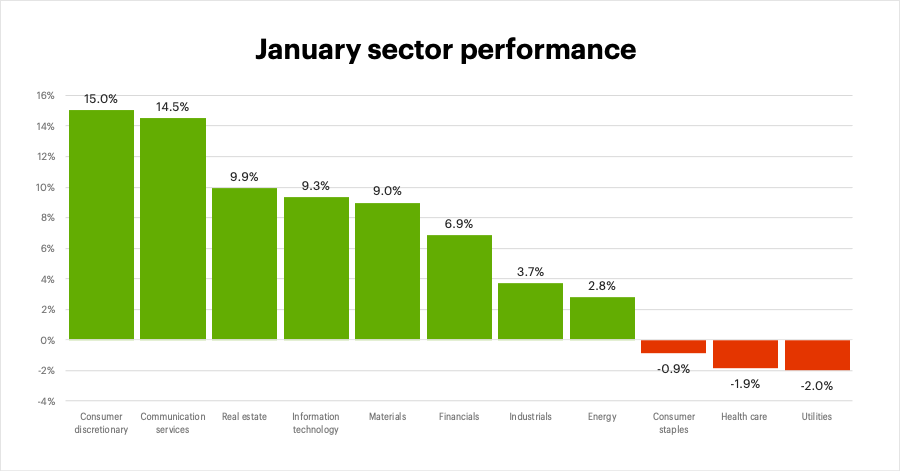 ---
International equities
International markets also started out the year with a strong rally-outperforming the S&P 500, with developed markets returning slightly more than emerging markets, which dipped toward the end of the month: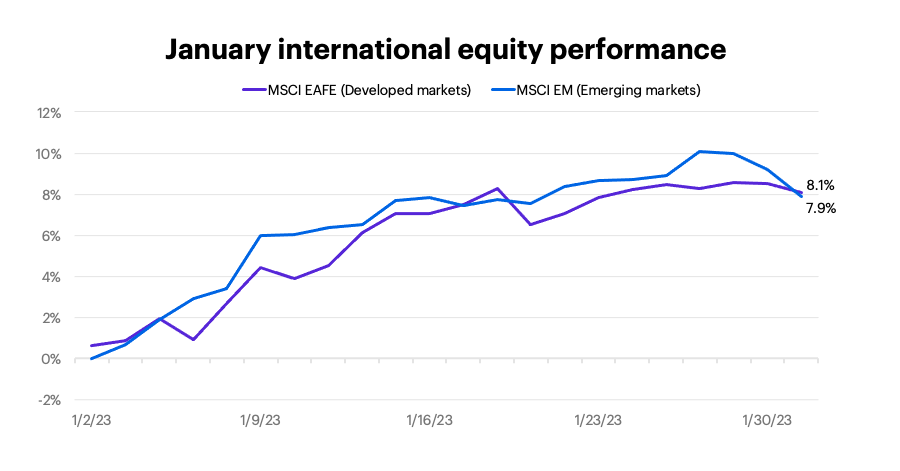 ---
Fixed income
The yield curve became more inverted in January, signaling potentially reduced confidence in the longer-term economic picture. While the shortest-term rates climbed (the one-month rate jumped 0.53% to 4.52%, for example), longer-term rates declined. The benchmark 10-year T-note yield ended last month at 3.53%, down from 3.88% at the end of 2022: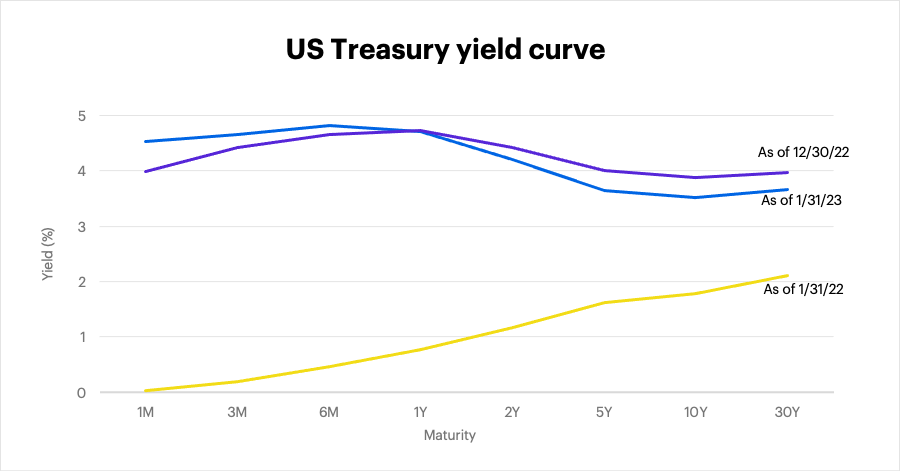 ---
Looking ahead
While January's rally was certainly a welcome development, investors should keep a few things in mind as we head deeper into the year:
Domestic leadership, international strength. Whatever 2023 brings for the US stock market, its sector leadership is unlikely to resemble last year's-as January's performance suggests. On the other hand, relative strength in international markets could continue to benefit from trends such as a weakening dollar.
Fixed-income focus. Despite the dip in longer-term rates last month, fixed-income investments continue to be compelling, both in terms of outright returns and diversification.
Sticky inflation and the Fed. As noted, in terms of inflation, "easing" isn't the same as "evaporating." And with each month that passes, the Fed may be getting closer to pausing rate hikes, but that's not the same as pivoting to rate cuts.
In other words, last month's turnabout notwithstanding, investors should prepare for the possibility that the volatility that dominated last year could re-emerge-even if 2023 turns out to be a net improvement from 2022. That means rather than chasing returns, investors should stick with a diversified investment approach that can survive the tough times and position them for long-term success.
Editor's Note: This article covers one or more microcap stocks. Please be aware of the risks associated with these stocks.