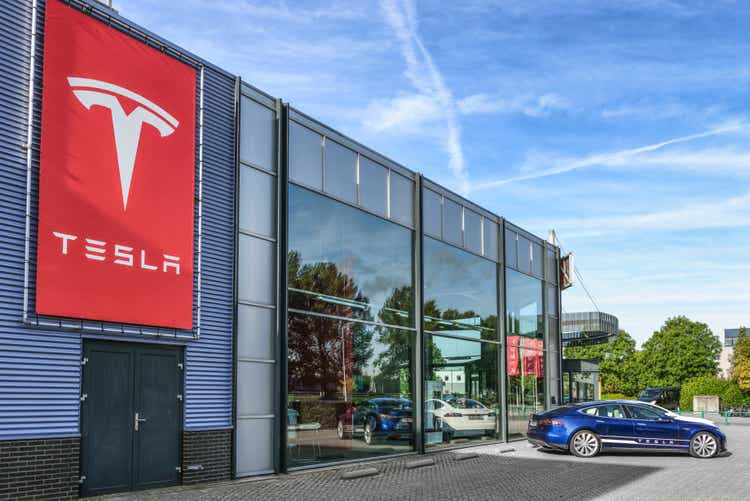 Over the past couple of years, one of the areas that has seen the most inflation has been vehicle pricing. Electric vehicle maker Tesla (NASDAQ:TSLA) had certainly raised prices around the globe on multiple models thanks to strong demand as well as inflationary pressures leading to higher costs. Late last year however, the company started to reduce pricing in China and offer incentives in other countries to help with sales, but these efforts weren't enough to meet Q4 delivery expectations. This year will be a very different one for the automaker, however, as more price cuts will likely be needed to drive delivery volume growth in a meaningful way. Today, I'd like to examine how this could impact overall results.
To think about where things are going, we first have to look at where they have been. In the chart below, I've shown what Tesla's automotive revenues per unit has been since the start of 2019, which is when the Model 3 ramp really went into full blast. This number is simply total automotive revenue, including leasing revenue and credit sales revenues, divided by the number of vehicles delivered in the quarter. Other people may calculate average selling prices differently, but this is how I want to show things for simplicity.
In Q3 2022, Tesla reported $54,364 in automotive revenues per vehicle delivered. That number is expected to come down a couple of percent in Q4 due to three reasons. First, there were price cuts in China during the quarter, along with numerous end of quarter incentives around the globe to help with sales. Second, the mix of Model 3 and Y vehicles delivered was higher, which lowers the average per vehicle. Finally, the leasing percentage ticked up a little, also hurting the average. On the flip side, Tesla could recognize a bit of previously deferred full self-driving revenues, perhaps hundreds of millions of dollars, but that would create an apples to oranges comparison here.
For 2023, my current estimate is that Tesla will deliver about 1.94 million vehicles, which is just a little under its long term growth target of 50% growth per year. For this argument, let's assume that the average revenue per delivery comes down to $48,000, which reflects the latest price cuts in China as well as more potential price cuts to drive demand in other countries. This results in a little more than $23 billion in automotive revenue per quarter, and for this exercise, I'm just assuming each quarter has the same amount of deliveries. As we've seen in the past, the ending numbers will likely be lower in the first quarter and then ramp throughout the year.
With Tesla increasing volumes by about 50% this year, one would likely expect that it can reduce its costs per unit as well. Some key materials, especially on the battery side, have shown some deflation recently, which should help the company's cost structure. For this argument, let's assume Tesla reduces its cost per delivered vehicle by $2,000 over Q3 2022 levels, where GAAP automotive gross margins came in at 27.88%. The chart below shows how overall GAAP automotive gross margins have fared over the same timeline used above. These margins include credit sales, because that's what appears on the income statement, but many analysts and investors also focus on non-GAAP margins too that exclude credits.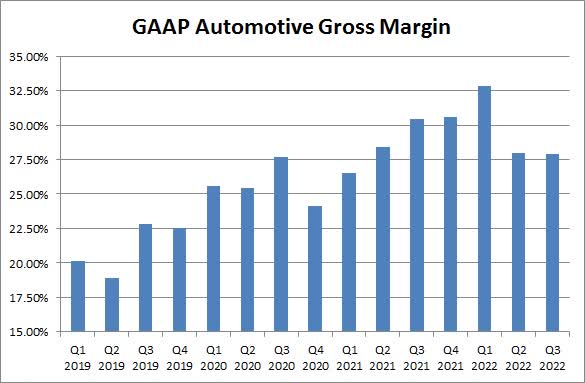 In the projection I detailed above, Tesla's gross margin drops to 22.49% for this year, a nearly 540 basis point drop over Q3 2022 levels. Some might consider this to be a disaster for the company. Well, it turns out that in this example, Tesla's gross margin dollar figure actually increases by $24 million to $5.236 billion. That's the power of the extra volume here. Should revenues per unit come in higher or the cost per unit come in lower, there would obviously be even more upside for gross margin dollars. For now, I'm not assuming that Cybertruck launch costs will be too material to the overall year's results, but that's an item that we can examine further as the year progresses.
Of course, the automotive gross margin picture is just one part of Tesla. In Q3 2022, for example, the energy and services segment also combined for $170 million in gross profits. A number of Tesla bulls are expecting storage sales to surge this year, which could deliver a lot more gross profit here. Over the course of the full year, that could mean at least a billion dollars. Thus, it will just be a matter of how total operating expenses fare, if they rise a bit along with the surge in total revenue. Tesla is also expected to generate more interest income and have less interest expense this year. Thus, the Street currently expects more than 25% growth in non-GAAP earnings per share this year to $5.11, although that number was approaching $6 about three months ago before price cuts began and economic worries started to really increase.
So what's the key here? Well, that gross margin figure will be very closely watched. If I reduce the hit this year to just 4 percentage points instead of the 5.4 shown above, gross margin dollars increase by $325 million per quarter. Holding all else equal, and assuming a 15% tax rate along with another small increase in the share count, you get 30 cents of earnings per share upside. If you want to see automotive gross margin dollars hold at their Q3 2022 level, watch the $48,000 per vehicle delivered price average, along with roughly 22.5% in GAAP automotive gross margins. If Tesla has to cut prices further or margins trend closer to 20%, then you are likely to see earnings per share come in below $5 this year, which will disappoint many of the bulls.
As for Tesla shares, they remain stuck towards the lower end of their yearly range, trading below $120 on Tuesday. Elon Musk's purchase of Twitter and the resulting share sales and drama there has hurt Tesla sentiment. Investors have also worried about how price cuts could impact revenues and margins in this very competitive space, as that could mean less than expected earnings per share growth. The Street remains very positive on the stock, with the average price target of nearly $217 reflecting tremendous upside, but that key valuation figure was at $305 just three months ago. I expect that we'll see a lot of price target changes coming after the Q4 earnings report in two weeks as analysts get a lot more color on how 2023 could look.
In the end, 2023 will look a lot different for Tesla than the last couple of years. Instead of rising prices and generally higher gross margins, the company is now reducing prices in many areas to drive volume growth towards its longer term targets. That could result in a meaningfully lower GAAP gross margin percentage for Tesla if it cannot drive costs lower enough, but that doesn't necessarily mean gross margin dollars will also fall. As long as the margin percentage doesn't crash, Tesla has a chance to grow its margin dollars and thus earnings per share this year, although analysts have reduced their expectations a bit in recent months. That earnings per share growth will likely be needed to get shares back above the $200 level that analysts see the stock worth.