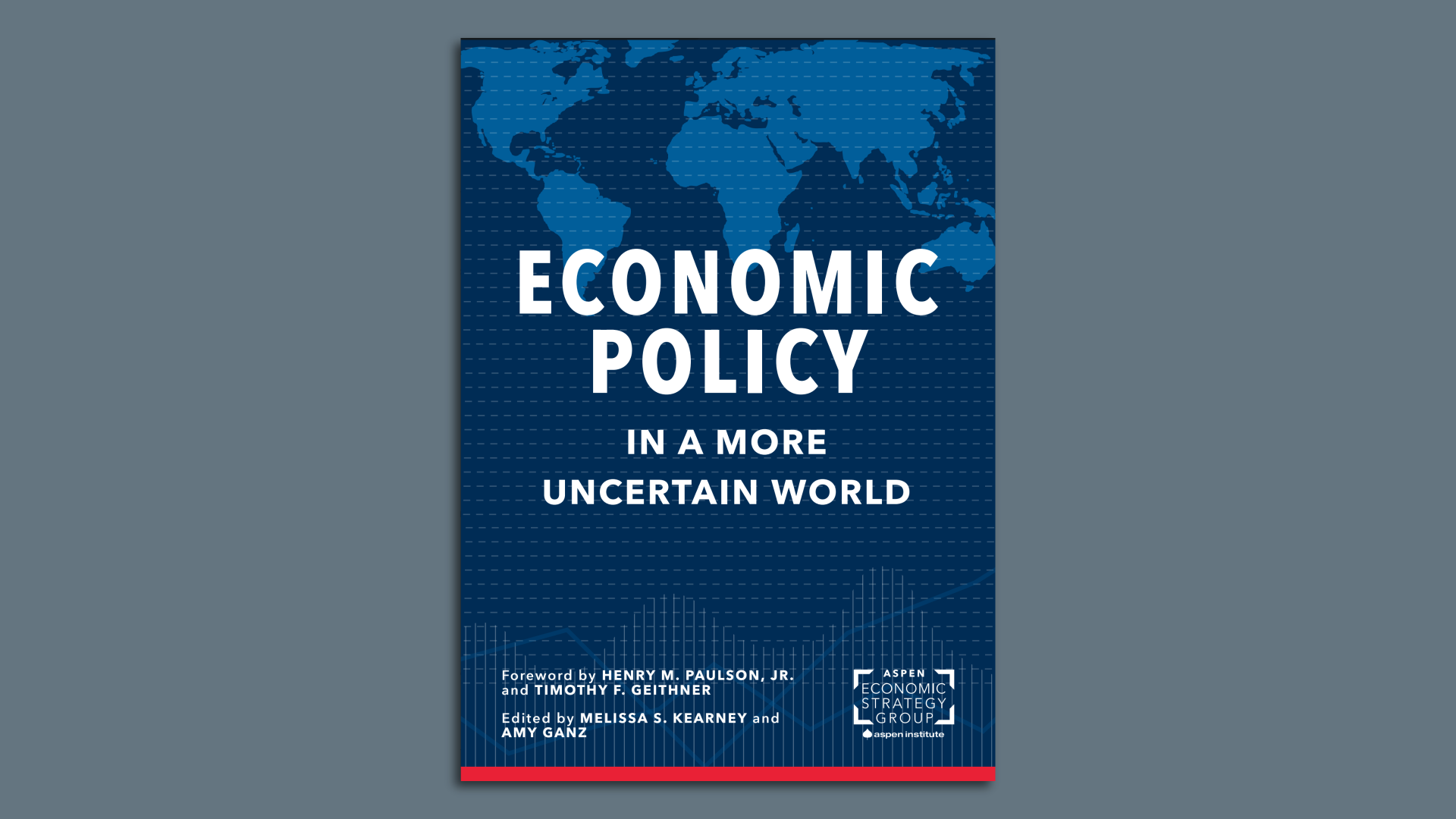 Image: The Aspen Institute
The United States needs more people, whether through Americans having more babies or more immigrants settling in this country. Failure to increase the U.S. population is among the biggest economic risks for the years and decades ahead.
That is our takeaway from a new volume from a group led by former top officials. It sheds light on how some leading thinkers see the high-level economic challenges of the 2020s and beyond.
Why it matters: For much of the 21st century, a lack of adequate demand has been a predominant challenge, with policymakers turning the knobs of fiscal and monetary policy to address it. Now, the central challenge is supply: improving the ability of the economy to make stuff.
But worsening demographic trends imply persistent labor shortages, slumping growth, and struggles to fund Social Security and other retirement programs.
Driving the news: The Aspen Economic Strategy Group, an arm of the Aspen Institute led by former Treasury Secretaries Hank Paulson and Tim Geithner, published a new volume of research this week focused on this and related themes, called "Economic Policy in a More Uncertain World."
Disclosure: Neil is a member of the Aspen group, attending its gatherings in his capacity as a journalist. He was not involved in preparing the new book.
The details: The U.S. fertility rate has fallen sharply since 2007, Melissa Kearney and Phillip Levine write. It is well below the "replacement rate" that implies a steady population, in the absence of immigration.
The "total fertility rate," the average number of children born to a woman over her lifetime, was 2.12 in 2007, they found. It was down to 1.65 in 2021, the lowest ever recorded in the U.S. A key reason is shifting priorities among young adults.
"Low or falling fertility will eventually reduce the size of the U.S. workforce and its overall population, reducing innovation and productivity," Kearney and Levine write.
They argue that projections for the long-term finances of Social Security and Medicare haven't adequately factored in the likelihood of continued low fertility.
Between the lines: In the years following the global financial crisis — the response to which was managed by Paulson and Geithner — the central problems facing the U.S. economy were different.
Now, "the U.S. economy is confronting a wholly different set of economic headwinds," Paulson tells Axios, including around demographics, debt and decoupling with China.
"These challenges threaten to constrain our productive capacity and reduce future standards of living," he said. "However, America's economic course is not determined. We should play to our strengths by welcoming the world's talent, unleashing innovation, and providing a stable, open and competitive business environment."